What is the base PVC card? Where and how can it be obtained?
Aadhaar is a card that can be used across the country. And any citizen of India can get Aadhaar number for free. They will also include their biometric details such as fingerprints and Irish scans.
And since this document is used as ID proof, people can use e-Aadhaar, Aadhaar, Aadhaar Letter, or Aadhaar Card. And all these things are made available to the users for free. And UIDAI has announced a new Aadhaar card type called Aadhaar PVC Card. And it is now being made available at a very low cost.
What is base PVC card?
Aadhaar PVC card is a type of Aadhaar. And inside it the details of the users will be printed on the plastic card along with the hologram. And it will confirm the authenticity of the Aadhaar PVC card.
To get a PVC Aadhaar card, you need to pay Rs. This card has to be the same size as any normal credit or debit card. And this price includes the cost of both printing and delivery of the card. People who have linked Aadhar card with their number and those who have not linked mobile number with their Aadhar card can also get this card with alternative mobile number. Read also: How to link adhar card with votor id card
How to order and order Aadhaar PVC card online?
To order a copy of your Aadhaar PVC card you have to go to the UIDAI website and then you have to give the Aadhaar for print within which you have to authenticate yourself with the help of OTP and then you have to pay Rs. 50 will not be paid. And you can make this payment with the help of credit card, debit card, net banking or UPAA.
After payment, the website will generate an Airway Bill number, which is a tracking number, and can be used to track your Aadhaar PVC card. UIDAI claims that the printed base PVC card will be handed over to the postal department within 5 working days. And the same will be delivered to the customer using Speed ​​Post in the next few days.
Read Gujarti news
In the next few weeks, the base PVC card will be delivered to your postal address. Note that UIDAI will only send the card to the address specified in the Aadhaar card, and it cannot be sent to any other address.
Aadhaar PVC Card The security features of Aadhaar PVC Card include 3D hologram, security QR code, micro text, ghost picture, issue date, print date, gilloch pattern and embedded Aadhaar logo.
Learn in 10 Points How to order Aadhaar PVC Card?
1. First visit https://uidai.gov.in or https://resident.uidai.gov.in.
2. Click on 'Order Aadhaar Card' service.
3. Enter your 10-digit Aadhaar number (UID) or 16-digit Virtual Identification Number (VID) or 28-digit enrollment ID.
4. Note the security code.
5. Select the option of registered number to get OTP. If the mobile number is not registered, fill in the optional number if available. Read also: Tamaru adhar card Pan card sathe link thay gayu che k nahi Cheak karo
6. Click 'Send OTP'.
7. Tick 'Terms and Conditions' after approval. (Note: Click on the hyperlink and see the details)
8. After completing the 'OTP' verification process, click Submit.
9. After clicking on 'Make payment' you will reach the payment gateway, where you will get the option of Credit / Debit Card, Net Banking and UPI.
10. Receipt of payment will be successful, it will have digital signature on it. You will get the service request number on SMS. You can use this number to track the process until the card is delivered. Read also: Official Site par thi adhar card download karo
Should you get an Aadhaar PVC card?
આધારકાર્ડ સુધારવા નીચેની લિંક પર ક્લીક કરો⤵️
As the price of this card is only Rs. So if you keep printed figures together you should buy this card as you need to as only printed figures on paper can get bad in the long run. And in comparison the base PVC card can last for much longer. One thing you need to note here is that Aadhaar PVC cards can only be ordered online and cannot be ordered authentically through any third party website or app.
How to download aadhar card pdf?
Aadhaar (English: foundation or base) is a 12-digit unique identity number that can be obtained voluntarily by residents of India, based on their biometric and demographic data.
The data is collected by the Unique Identification Authority of India (UIDAI), a statutory authority established in January 2009 by the government of India, under the jurisdiction of the Ministry of Electronics and Information Technology, following the provisions of the Aadhaar (Targeted Delivery of Financial and other Subsidies, benefits and services) Act, 2016.
Aadhaar is the world's largest biometric ID system. World Bank Chief Economist Paul Romer described Aadhaar as "the most sophisticated ID programme in the world".[4] Considered a proof of residence and not a proof of citizenship, Aadhaar does not itself grant any rights to domicile in India.[5] In June 2017, the Home Ministry clarified that Aadhaar is not a valid identification document for Indians travelling to Nepal and Bhutan.
Prior to the enactment of the Act, the UIDAI had functioned, since 28 January 2009, as an attached office of the Planning Commission (now NITI Aayog). On 3 March 2016 a money bill was introduced in the Parliament to give legislative backing to Aadhaar. On 11 March 2016 the Aadhaar (Targeted Delivery of Financial and other Subsidies, benefits and services) Act, 2016, was passed in the Lok Sabha.
DOWNLOAD AADHAR CARD PDF

HOW TO DOWNLOAD E AADHAR?

How to download aadhar card pdf?

Aadhar card kaise download kare?

Adhar card download kare.

Aadhar card apne phone me kaise download kare?

Aadhar card ki pdf kaise download kare?

Adhar e copy download karne ki link.

Aadhar card pdf download karne ki site.

Sarkari aadhar card download karne ka tarika

Aadhar card kevi rite download karvu?

Aadhar pdf ma kevi rite download karv?
Aadhaar is the subject of several rulings by the Supreme Court of India. On 23 September 2013 the Supreme Court issued an interim order saying that "no person should suffer for not getting Aadhaar", adding that the government cannot deny a service to a resident who does not possess Aadhaar, as it is voluntary and not mandatory .
Aadhar Card Download by Aadhaar Number
If you want to download and print e-Aadhaar card online, you need to follow the below-mentioned steps:
Step 1: Visit the Aadhar official website https://uidai.gov.in/
Aadhar Card Download by Aadhaar Number
If you want to download and print e-Aadhaar card online, you need to follow the below-mentioned steps:
Step 1: Visit the Aadhar official website https://uidai.gov.in/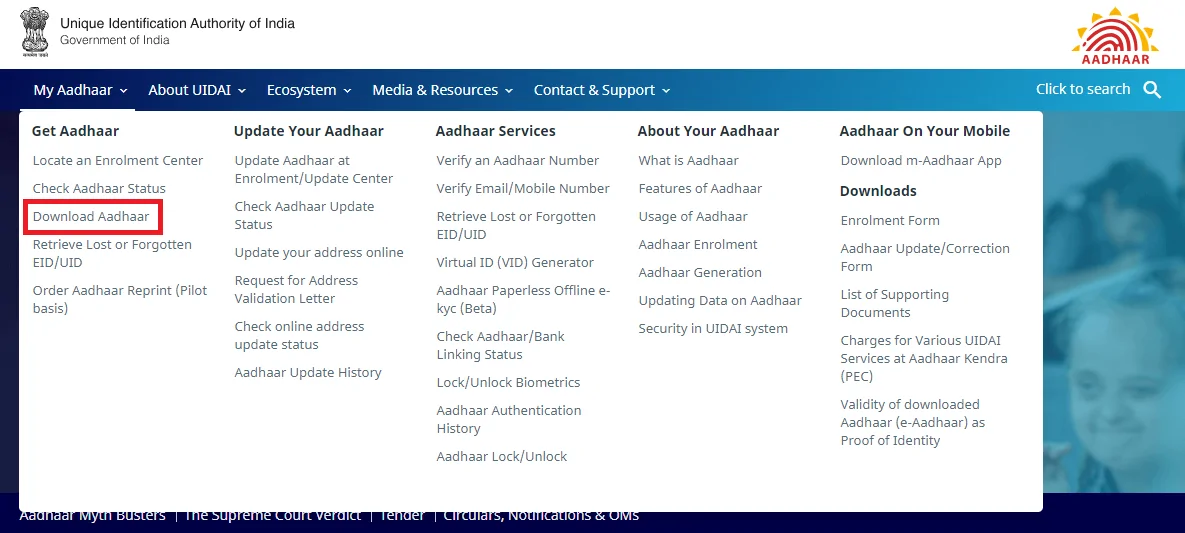 Step 3: Select the "Aadhaar" option under "I Have" section
Step 4: Enter your 12-digit Aadhaar number. Select the "Masked Aadhaar" option if you do not want to show full digits of your Aadhaar number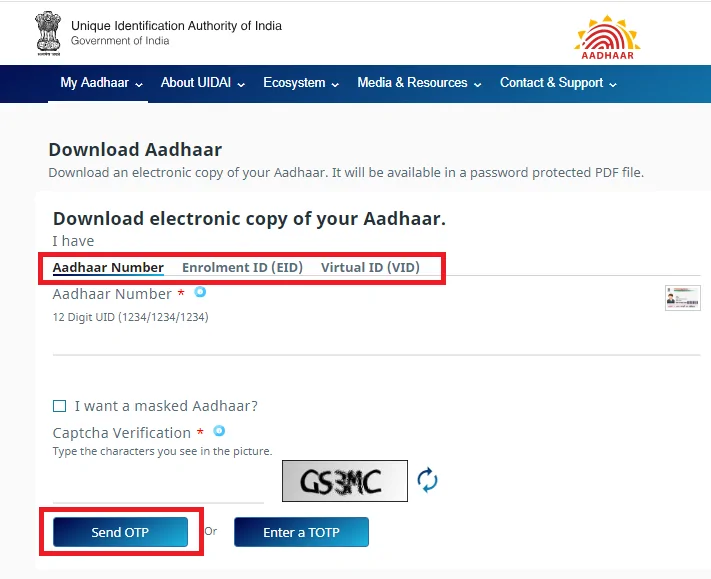 Step 5: Enter Captcha Verification Code and Click "Send OTP" option to get the one time password on your registered mobile number
Step 6: Enter the OTP received on your mobile number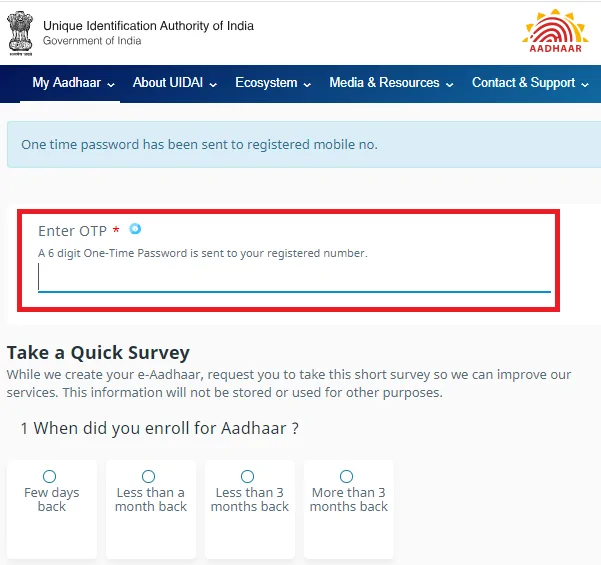 Step 7: Complete the survey and click "Verify And Download" to download the eAadhaar card.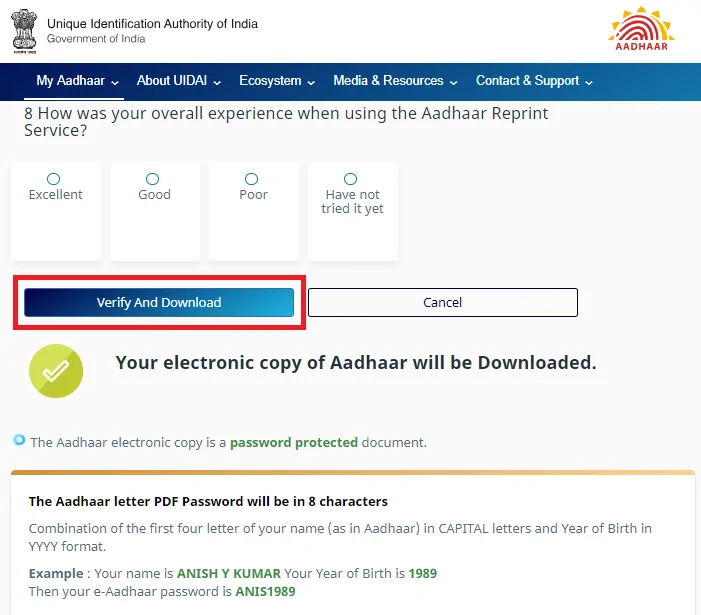 Steps for Aadhar Card Download by Name and Date of Birth
PVC આધાર કાર્ડ ડાઉનલોડ કરો
In case you do not remember your Aadhaar number or EID, you can still download e-Aadhaar by entering your name and date of birth. Follow these steps for Aadhar card download:
Step 2: Enter your full name and either your registered e-mail ID or mobile number and the security code
Step 3: Click the "Send OTP" button
Step 4: Enter the OTP received on your registered mobile number and click on the "Verify OTP" button
Step 5: A message will appear on the screen informing the Aadhaar number is sent to your registered mobile number
Step 6: On Getting your Aadhaar enrolment number on your mobile, visit the e-Aadhaar page on the official UIDAI website
Step 7: Click "I have Aadhaar" option
Step 8: Enter Aadhaar enrolment number, full name, pin code, image captcha
Step 9: Click "Request OTP"
Step 10: An OTP will be sent to your mobile number. Enter this OTP and click "Download Aadhaar" to download Aadhaar
You cannot download Aadhaar if your mobile number is not registered with UIDAI.

UIDAI sends OTP to the registered mobile number for authentication before allowing you to download the pdf Aadhaar card.

You cannot download Aadhaar card without OTP.

You can download e-Aadhaar as many times as you want.

Downloaded e-Aadhaar can be used in place of your original Aadhaar card everywhere.

After downloading the online Aadhaar, one can get its print out by entering the password.
Click Here For Aadhar Card Download – Steps to Download & Print e-Aadhaar Online
Step 5. Download e-Aadhaar PDF
To open the e-Aadhaar PDF file, you will need to enter a password. Your password will be the first four letters of your name along with your birth year. Ensure the letters of your name are entered in capitals. For instance, if your name is THOMAS and your birth year is 1989, your password will be THOM1989.
The court also limited the scope of the program and reaffirmed the voluntary nature of the identity number in other rulings. On 24 August 2017 the Indian Supreme Court delivered a landmark verdict affirming the right to privacy as a fundamental right, overruling previous judgments on the issue.[16][17] A five-judge constitutional bench of the Supreme Court heard various cases relating to the validity of Aadhaar on various grounds including privacy, surveillance, and exclusion from welfare benefits.
You can also get Aadhaar on your mobile number by clicking here. For this, you need to have a registered mobile number linked with your Aadhaar. If you do, simply enter the following details:
Enrolment ID

Date/Time (dd/mm/yyyy hh:mm:ss)

Mobile number

Security Code

OTP
If you have recently applied for an Aadhaar card and are waiting for delivery of the same, you can get Aadhaar card status by following these 6 steps:
Keep your enrolment slip handy.

Log in the official UIDAI website, https://uidai.gov.in/.

On the home page, look for the option 'Check Aadhaar Status' and click on it. This is the page that will open.

You will be asked for your 14-digit Enrolment ID (EID) number along with the 14-digit time stamp. Enter the same. Ensure the time stamp is entered in this format: dd/mm/yyyy hh:mm:ss as mentioned on your enrolment slip

After submitting this, you will be asked to enter the given security captcha code. Carefully enter the same without any mistakes.

Now click on the 'Check Status' button to be provided with the Aadhaar status of your application.
You can Download Adharcard From this guideline. I hope you would like this article. We also provides technology news, education related news, and also job news. So Daily visit our site for new update. Thanks